Job Details
Category: Shepherd / General
Location: Taihape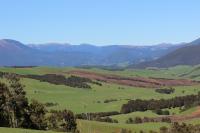 Alan Roberts Family Trust

Shepherd General
Timahanga Station

We are a 10,000ha high country station located on the Gentle Annie road between Taihape and Hastings, approximately 70km from either town, running
Corriedale sheep and Angus cows.

We require a competent Shepherd/General hand with good kind stock sense to work in a team environment with the ability to undertake the following:

SHEPHERD/GENERAL DUTIES – INCLUDING BUT NOT LIMITED TO:

Mustering and movement of stock as required
Feeding out to all stock as required
Crutching, docking, calf marking, weaning, vaccinating and drenching stock as required
General farm work including fence repairs, cutting of firewood etc
Killing of dog tucker and muttons
Occasional tractor driving as directed
A roster system for feeding out on weekends in winter

This job would suit someone with a minimum of three working dogs under
good command.

The majority of stock work is done on horse so own saddle is required.

A current drivers licence is also a requirement.

Single accommodation is provided.

Applicants for this position should have NZ residency or a valid NZ work visa.

Commencement date for this position is 10 January 2022 (or by negotiation).

Please phone Alan Roberts (evenings) in the 1st instance 06 388 0405


Date Posted: 2021-11-25